As a user primarily speaking a non-English language, I want to see translated names for the standard Wikibase namespaces (Item, Property).
Problem:
Wikibase has translated namespace names in repo/Wikibase.i18n.namespaces.php, but as far as I can tell, they are not used. Even if you set your wiki's content language to a non-English language, you still get English names for the Item and Property namespaces.
This seems to be because Wikibase registers its namespaces through $wgExtraNamespaces (either in repo/config/Wikibase.example.php or in LocalSettings.php), whereas most extensions register them through the extension JSON file. In Language::getNamespaces(), the namespace names are combined like this:
$this

->

namespaceNames

 

=

 

$wgExtraNamespaces

 

+


	

$this

->

localisationCache

->

getItem

(

 

$this

->

mCode

,

 

'namespaceNames'

 

);




$this

->

namespaceNames

 

+=

 

$validNamespaces

;
Because the + operator for arrays doesn't overwrite existing elements, this means that namespace names from $wgExtraNamespaces are never overwritten by names from the localisation cache.
Example:
Screenshots/mockups:
action=query&meta=siteinfo&siprop=namespaces on a local wiki with $wgLanguageCode = "es":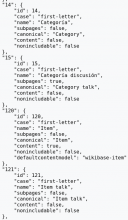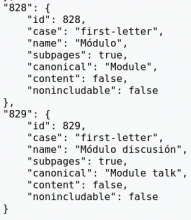 Note that the namespaces Category (from core) and Module (from Scribunto) are translated, but Item is not, even though a translation for it is available («Elemento»).
LTR namespace name in an otherwise RTL interface:

BDD
GIVEN
AND
WHEN
AND
THEN
AND
Acceptance criteria:
Namespace names are translated depending on content or user interface language.
Open questions: