In facebook ( https://www.facebook.com/settings?tab=security ), one can selectively log ones self out of other current sessions, but in Mediawiki, one is helpless if one wants to log out of a session for which one no longer has access to the terminal of.
Please implement being able to log out of selected other sessions, or at least a way of logging out of everything everywhere, short of changing one's password.
From the other task:
Currently, there's no way for me to see which sessions are valid/active for my account on Wikimedia projects – if I want to be sure that I can't be compromised by an old session, I have to change my password. It would be useful if MediaWiki instead offered a way to list those sessions, and ideally allowed me to selectively terminate them as well.
GitHub and Twitter have such a feature, for example: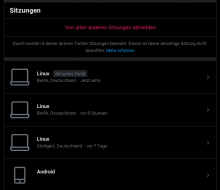 In MediaWiki, this is currently offered by Extension:SecureSessions (CC @Parent5446), but that extension isn't deployed on Wikimedia wikis and also doesn't always work, for example due to T73066; in T73066#2386198, @Anomie outlined an alternative way to track sessions. I think it might be worth adding this as a core feature.
See also:
T55156: Provide option to force a login session to end within a certain time